Civic Trust News 2014
---
Winter 2014
Civic Trust Recent Events
September – This month saw our return after the summer break, our invited speakers were Richard and Leigh Wood from Lilies and Chillies, growers of rare and traditional perennial plants, chillies and lilies at their nursery at Aston on Trent. As part of their talk "Poison in the Garden" Richard led us through an impressive list of well-known garden plants and shrubs which to the uninitiated would seem to be fairly innocuous. However, it would seem that at best most things are at least rather unpalatable or at worst down-right lethal. It was a fascinating talk accompanied by beautiful images of the plants under discussion. Richard and Leigh are also the proud owners of a herd of Suri Alpacas from which they produce a selection of Alpaca yarn. We rounded the evening off with the opportunity to purchase from a selection of bulbs and plants brought along by Richard and Leigh.
October – Our talk for October "Time Gentlemen Please" was presented by Mr Rod Pearson; Rod is a regular visitor to Rolleston Civic Trust and can always be relied upon to give an entertaining and informative talk. Rod was quick to point out that the talk was not about the niceties of contemporary pub culture but about the origins of calculating time.
It soon became pretty obvious that we don't all use the same way of calculating time and calendars across the world do vary, for instance in the Islamic calendar it is currently the year 1435, if we followed the Hebrew calendar it would be 5775 and according to the Indian Civil calendar it is 1936. We also learnt about the importance of longitude and latitude, the Greenwich Meridian and a multitude of other fascinating facts. Once again Mr Pearson kept us all entertained whilst at the same time passing on a host of information.
------
This Magazine has been delivered free throughout the village for the past 32 years through the work of the Civic Trust. Please show your support and fill in an application now.
------
Forthcoming Programme
Wednesday 19th November
Talk by Ali Lewis
The Christchurch Earthquake – a unique and personal experience
Wednesday 21st January
Talk by Richard Stone
Muses, Models and Mistresses – The Pre-Raphaelites
Sunday 25th January
Mulled Wine at Appleacres – from 12 noon
By kind permission of Simon and Helen Richardson Ticket Event
Please Support The Civic Trust
On the 15th January this year The Civic Trust invited all members to attend a special meeting at The Cricket Club to discuss the way forward for The Civic Trust and hopefully stimulate interest in our activities and attract a wider membership. It was also hoped that more members would be interested in joining the Committee and relieve the pressure on the small band of stalwarts who have worked hard on your behalf for a number of years.
The meeting was well attended and some very useful ideas and suggestions were generated. We have changed some of our events and our ways of operating as a result of the meeting and have attracted some new members. The only thing that did not change was the small band of stalwarts on your Committee.
We are now a year further down the line and it looks like the Committee will soon get even smaller. Of the current Committee of nine, four are standing down in March 2015 including our Treasurer, Meeting Organiser and Member responsible for comment on Planning issues.
Without further help we will not be able to support future planned projects and the sustainability of The Civic Trust as a group in the Village is put in doubt.
We need new committee members urgently.
If you are interested in helping contact our Chairman, Peter Barnett (Tel:814791), or our Secretary, Vanessa Winstone (Tel:812830) and let us know.
---
Autumn 2014
Civic Trust Recent Events
May – The Civic Trust annual Plant Sale at St Mary's Church was held on the 18th May. As usual we had a huge collection of plants, shrubs and pots donated for the sale. The weather was fine and warm and refreshments were available inside the Church. We made a handsome profit of £235 which has been given to St Mary's Fabric Fund. Many thanks to all those people who donated plants for the sale or helped on the day, as well as those providing the cakes for the refreshments and of course to our clients who ate them.
May was also the month of our Walk and Talk outing around Ashbourne. This was a great evening event with two very experienced and informative tour guides to escort us around the highways and byways of areas of Ashbourne not always accessible to the public. We ended the evening with a buffet supper at The Cock Inn at Clifton near Ashbourne – a very enjoyable outing.
June – in June we welcomed Major (Retired) Edward Green talking about the Staffordshire Regiments in WW1. It was a fascinating insight into the history of our local regiments, their involvement and strategies in various battles of WW1 - particularly in the battle of the Somme.
For our June summer event this year, we held a talk and supper evening at the Alderbrook School with the proceeds going to The Almshouse Renovation Fund.
The talk was entitled "Gold, God and Battle; Looking at the Staffordshire Hoard", we were treated to an inspiring talk by Dr Kevin Leahy – an archaeological finds expert with responsibility for working on the Hoard. Kevin, originally from Burton upon Trent is passionate about his subject and his presentation reflected this. Amazingly it is now five years since the discovery of the hoard near Lichfield and a huge amount of work and research has been carried out by Kevin and his team. We saw images of artefacts in their original state and of the now cleaned items and we marvelled at the craftsmanship of our ancestors to produce such delicate and wonderful pieces of jewellery and armour. It is still not clear as to why the treasure was left at this particular location but it was a fascinating and thought provoking trip back to a time when the land was a fairly lawless place and Mercia was the centre of power.
The Civic Trust would like to thank all those involved in making the evening the huge success it was. The John of Rolleston Primary School's help in the preparations for the evening was superb. The supper, produced by Beryl Toon as usual hit just the right spot; thanks also go to those helping at the end to clear the hall. A big thank you goes to all those who donated the prizes for the raffle and to those who attended and spent so generously on the raffle. The total amount that we were able to donate to the Almshouse Renovation Fund was £1300.
Civic Trust Programme
Wednesday 17th September
Talk by Richard and Leigh Wood
Poison in the Garden – Bulbs and Plants for Sale
Wednesday 15th October
Talk by Rod Pearson
Time Gentlemen Please
Wednesday 19th November
Talk by Ali Lewis
The New Zealand Earthquake
Does E.S.B.C. Care About Brook Hollows?
The Civic Trust and The Village do care deeply about Brook Hollows.
Brook Hollows was first subject to a compulsory purchase order by Tutbury Rural District Council in 1971, and following the reorganisation of Local Government in 1973, it passed into the ownership of East Staffordshire District Council. Working parties, organised by the Parish Council and the Civic Trust, worked to clear the land and the lake to make the area a village facility that we could be proud of.
From the outset it was always understood that the site would brought into local use with the active participation of the local community. Restoration work was carried out between 1971 and 1978 with the Parish Council and the Civic Trust being at the forefront. De-silting of the lake was carried out with the invaluable assistance of JCB who used the opportunity to test and develop new machines. The maintenance of the area was undertaken by the Civic Trust and a few volunteer members mowed the grass, kept the brook and lake clear of obstructions, maintained the paths and kept the swans safe. The area has been enjoyed by villagers and local fishermen for more than 30 years.
A growing problem with Brook Hollows has always been the silting up of the lake by soil erosion from farms upstream. When the lake was de-silted with the help of JCB, a bund was created at the upper entrance of the lake to hold back silt from above, but this has long been over run. The Civic Trust and the Parish Council have urged E.S.B.C. on numerous occasions to take action and de-silt the lake, but with ESBC quoting figures of up to £100k and advising that under EU regulations the current dam would not be strong enough if the lake was de-silted, nothing has happened.
In 2008 the Civic Trust were advised by E.S.B.C. that regular maintenance was in future to be undertaken by them and the Civic Trust were no longer required to carry out such work. The small grant allocated to the Civic Trust to provide and maintain equipment to carry out these works was withdrawn. The Civic Trust and Parish Council were concerned as to what work would be done by E.S.B.C so, following a meeting between the three groups, E.S.B.C. prepared an action plan for major works to the area and a schedule of maintenance works to ensure the retention of this valuable asset. Copies of these schedules were provided to the Civic Trust and the Parish Council.
Since that date the planned major works have not been carried out, and the maintenance of Brook Hollows has slowly declined.
We are happy to say that a lot of work has been carried out, not only the mowing of grass, but structural works to some of the waterways, which were in danger of bursting- work that could not have been done by the Civic Trust. However the overall picture has shown a slow decline which has prompted the Civic Trust and the Parish Council to contact ESBC on numerous occasions to try and get the maintenance works completed as per the agreed schedule.
As a consequence of inaction by E.S.B.C., Brook Hollows is slowly being destroyed by neglect. As in any area suffering such neglect the tell-tale signs begin to appear. Areas get overgrown and wild, litter becomes a growing problem followed by dumping of waste. The area becomes less frequented as people do not feel comfortable there - unlike some who seek out these areas for their own use with unsociable activities including drinking and the use of drugs.
This is now happening in Brook Hollows.
The neglect by ESBC can be clearly seen and we assume this to be due to the spending cuts currently being imposed throughout government levels. However, spending on other green areas in Burton does not seem to be such a problem. We have to ask does ESBC have a problem with Rolleston?
Now the tale has gone full circle and, due to the problem of silt in the lake, E.S.B.C. together with their safety advisors have decreed that the lake is unsafe for children - who may get stuck in the mud so it should be fenced. Thirty six years ago the fences surrounding Brook Hollows were taken down and we were allowed in. E.S.B.C. would now have us put them back up!
We have to fight this. The Civic Trust and the Parish Council continue to lobby for action.
The separate note from Bryan Chinn shows general village concern.
We urge you to sign the petition and also write to
Julian Mott Leader of the Council
East Staffordshire Borough Council
The Maltsters
Wetmore Road
Burton upon Trent
DE14 1LS
Email : Julian.mott@eaststaffsbc.gov.uk

Copy your letters to Rolleston Parish Council : Rollestonpc@btinternet.com

Peter Barnett
Chairman, Rolleston Civic Trust
Save Brook Hollows
Brook Hollows Lake and Spinney in Rolleston is apparently in terminal decline, due to lack of adequate maintenance by its owner East Staffordshire Borough Council.
The Hollows, which were originally landscaped by the Mosley family over 300 years ago, were reclaimed from a swamp by villager's voluntary labour in the 1970s, and were well maintained by our Civic Trust until ESBC informed that they were "no longer required" years ago
At present the lake is silted up and is only a few inches deep in many places. The paths are not maintained, a public footpath has been completely blocked and nettles over 5feet high are a hazard to walkers.
Rubbish has not been cleared for months, a dam built by vandals has been evident for months without any action to remove it, and a recent fire lit by vandals, would, if not discovered quickly, have resulted in the loss of the whole spinney. Trees have been felled and left in situ, and in one instance block the footpath.
Our Parish Council, Borough Councillor, and the Civic Trust, have tried unsuccessfully over many years to persuade ESBC to improve the maintenance, and have stated that they will support an "Action Group" to pressure ESBC.
A first step would be to place a petition in Starbucks, this will be in place by the time you read this, and we hope that you will sign.
Further information from Bryan Chinn, tel 01283 810269 email bryan.chinn1@btinternet.com.

From A Village Poet
Rolleston on Dove, a lovely place,
Staffordshire village with a lot of green space,
The Council want to build on a lot of our land,
It isn't fair and it wasn't planned,
They won't spend money on de silting our lake,
Something needs doing for goodness sake!
Historic beauty spot we call Brook Hollows,
Needs investment for our children's tomorrows,
If nothing is done the flooding gets worse,
With an extra cost to the public purse,
We need a group like the Civic Trust,
Not East Staffs Council who can't be fussed,
Safety Audits and bits of fence,
Are a waste of time and a lot of expense,
Someone needs to stand up and do their bit,
Take the fence down instead of sitting on it!
---
Summer 2014
Chairmans Report 2013-2014
At the AGM held on the 18th March the Committee for 2014 was elected as follows
Chair Peter Barnett
Vice Chair Helen Richardson
Secretary Vanessa Winstone
Treasurer Sheila Lord
Committee Roger Gawthorpe, Michael Hill, Ali Lewis, Barbara Makin, Janet Sanderson
The Chairman then reported on the events of the past year.
Another busy year for the committee of the Civic Trust with our usual series of events, meetings and talks, but the difference this year has been the amount of hard, physical work carried out by the Committee and a few keen helpers. The reason for this was the completion of work to the Spread Eagle Island and the long hot summer. The amount of water lifted bodily out of the brook and spread over the growing plants and grass was huge, but I think the results speak for themselves in the splendid display the Island has given throughout the year. Many thanks to all who helped. The efforts were worthwhile as The Spread Eagle Island was a clear winner of the vote for The Civic Trust award for 2013.
Our talks programme was again a rewarding experience starting at our last AGM with curtain calls and pratfalls from John Phillips and went on to cover our local history with Janet Spavold and Alan Hopkins career in music before our summer break. This was followed by talks on the NGS Gardens, Policing before the police and our local scout's experiences in Kenya which saw us up to Christmas. 2014 saw us start with a special AGM and a talk about his "Turriff" by Ian Whitehead.
Our plant swap again raised funds for the Church and our summer walk and talk this year was canapés and a tour of Caton Park..
Our Christmas Dinner was again local affair with an evening at The Nation Brewing Centre.
Our Summer Cheese and Wine Evening and our Mulled Wine event, both held at Apple Acres, were enjoyed by all, at the cheese and wine the beer and wine flowed well on a fine evening and the buffet again kept everyone busy and well fed.
We again ran our annual Garden Awards, the award for best front garden being won by Mr and Mrs Chapman and the award for best hanging basket by Stephen Burge.
The Village Neighbourhood Plan seems to have hit the buffers after being accepted, with a few minor amendments, by the independent examiner. This appears to be as a direct result of the ongoing situation with the proposed development by Burton College
This matter that has dominated planning issues throughout the year. We have seen demonstrations in the village and jubilation when the Borough Councillors rejected the college application much to the disgust of the Planning Officers, our Village Plan being responsible for this rejection. However the planning issue is now subject to appeal and our Village Plan is held in limbo by ESBC. Is Localism dead in East Staffordshire. I suggest you ask your MP.
In January our Members responded to The Committee's call to attend a special meeting to discuss the future of The Civic Trust. The concerns of the Committee were explained and a range of questions were put to the members for discussion and comment. The members present were requested to form smaller discussion groups and each group was joined by a committee member acted as a liaison to record discussion and record bullet points raised. These have now been analysed by members of the committee to identify the common concerns and ideas raised. We can now use these ideas to prepare an action plan for the future of The Civic Trust which will be presented to members at a future meeting.
Some interesting ideas were
Use more electronic communication
Use members to help in the organisation of functions
Develop functions to involve families
Establish closer ties with PC, ESBC, and other CT's
Modernise Rollestonian
Civic Trust Recent Events
February - we were pleased to welcome the Rev Ian Whitehead as our guest speaker Ian's talk was entitled Special Places: Sacred Spaces and touched on his formative years growing up in Coventry and his love of the Thurrock, an area of open land to play on, which opened up all sorts of childhood activities. A fascinating talk - where we were invited to consider our own special places and their impact on our later years.
March saw our AGM, this was preceded by a talk by Dr Tim Jacklin called Life under the Surface – Our Rivers and their Wildlife. Tim explained to us the improvement over the years of our local rivers and streams, notably the Dove and the Trent and the re-establishment of various species of indigenous fish to these waterways. Unfortunately there have also been some losses along the way with the extinction of several types of fish. Using old records, Tim could trace the rise or fall in the numbers of specific fish species over many years. The AGM followed our talk, with Chairman Peter Barnett giving his Chairman's report, recounting the various activities of the Civic Trust over the last twelve months. See below for a copy of Peter's report.
April welcomed a visit by Mrs Janet Spavold, Architectural Historian. Janet has spoken to us on previous occasions, this time her talk was called History along the Road and concentrated on how the roads we use today have developed from the packhorse tracks, Saxon walkways and Roman roads of our predecessors. Janet's talk also told us of things to look out for on our travels, things we are used to seeing but are often unaware of their historical significance, for instance the prism shaped sign posts with the distance of the next town on the side, date back to Roman times. As usual, a very interesting and informative talk from Janet.
Civic Trust Programme
Wednesday 18th June
Talk by Major (Retired) Edward Green
Staffordshire Regiments in World War 1
Saturday 28th June
Gold, God and Battle; Looking at the Staffordshire Hoard a talk by Dr Kevin Leahy -
An archaeological finds expert with responsibility for working on the Hoard.
Our summer event in aid of Rolleston Almshouse Charity.
To be held at the John of Rolleston School – Alderbrook Site
7.00pm for 7.30pm start - £12.50 including light refreshments and a glass of wine.
Bar also available for additional drinks.
Tickets available from Janet Sanderson 815480 – Committee Members – Starbucks
Wednesday 17th September
Talk by Richard and Leigh Wood
Poison in the Garden – Bulbs and Plants For Sale
Civic Trust Garden Awards
There will be no awards this year during the Civic Trust's strategic review of its functions. A revised scheme may be run next year.
---
Spring 2014
Civic Trust Recent Events
December saw our annual Christmas event. This year we enjoyed a traditional evening meal at The National Brewing Centre in The Brewery Tap Bar and Restaurant. The evening attracted thirty of our Civic Trust members who enjoyed an excellent meal and seasonal cheer. A good start to the festive season.
January is usually the start of our speaker's programme after the Christmas break, this year it was designated instead as an Extraordinary General Meeting entitled "The Future of your Civic Trust". We were very pleased that following leaflet drops, posters in the village notice boards, adverts in the Rollestonian and on the village web site, we attracted over 60 people to the meeting. The evening was dedicated to gaining information, thoughts and ideas from our members and interested parties as to the way forward for the Civic Trust. The result has been very helpful and informative; we aim to have a report ready for the March A.G.M. meeting. Many thanks to all those who turned out on a very wet and windy evening.
January is also the month we hold the Mulled Wine Event at Apple Acres, many thanks to Simon and Helen Richardson for their hospitality. This year we attracted almost fifty guests all enjoying plenty of very welcome mulled wine accompanied by dips and nibbles, just right for a wintery and wet Sunday afternoon. The raffle raised a very healthy £107 which is to be donated to The Alms House Trust for the refurbishment fund.
Civic Trust Programme
Wednesday 19th March A.G.M.
Dr Tim Jacklin
Life Under the Surface – Our Rivers and their Wildlife.
Wednesday 16th April
Mrs Janet Spavold - History Along the Road
Sunday 18th May
Plant Sale and Swap 2.00pm – 4.00pm
Refreshments Available
Old Grammar School Room
Proceeds to St Mary's Fabric Fund
Wednesday 21st May
Walk and Talk Around Ashbourne
6.45pm for a 7.00pm Start
Refreshments to follow at a local hostelry
Ticket Event
Wednesday 18th June
Major (Retired) Edward Green – former Director of The Regimental Museum
The Staffordshire Regiments in World War 1 – A brief overview of WW1 through the battles of the South and North Staffordshire Regiments and also the story of Lance Corporal Bill Coltman VC of Rangemore and Burton.
Saturday 28th June - Summer Event
This year as an alternative to our usual summer event, we are pleased to be able to welcome Dr. Kevin Leahy to talk to us as part of a major fund raiser for The Almshouse Trust refurbishing project.
Dr. Leahy is a National Finds Advisor specialising in Anglo Saxon metal work and will be taking to us about his involvement with the Staffordshire Hoard. Dr. Leahy, although no longer a local resident, still has family in Rolleston.
This will be a ticket event and will include refreshments. More details will be announced on the village notice boards, website, in the next edition of the Rollestonian and of course at our monthly meetings at Rolleston Cricket Club.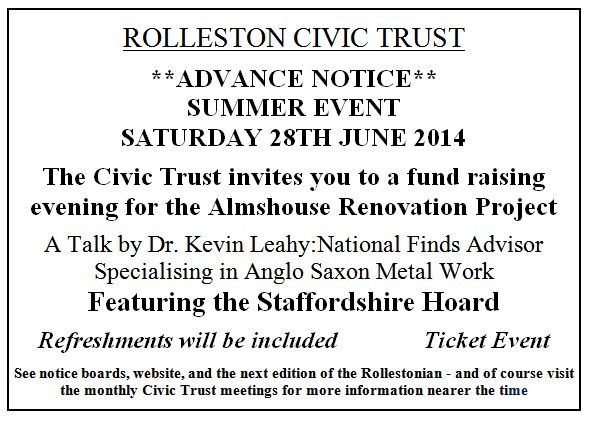 ---
Return to Civic Trust Home Page
Last updated: 2 March 2015