VILLAGE GRAPEVINE 2002

The Webmaster would like to express his appreciation to all sources of information, including Burton and South Derbyshire's biggest-selling newspaper and Arnold Burston.
Gem Connection Charity Concert
Twenty-seven members of Gem Connection, the Ladies Barbershop Chorus, held a charity concert in St Mary's Church on 7 December, to raise money for the Queen's Hospital Cancer Appeal. The concert was organised by one of the members, Helen Potts who, with her mother Mrs Elaine Toon sings regularly with St Mary's Church Choir. Helen had also made the spectacular costumes worn by the group. They performed a number of well-known songs and ended with special arrangements of Christmas Carols.
The Chorus, from Long Eaton, was founded in 1998 and, in Harrogate in 1999, the Ladies Association of British Barbershop Singers awarded them the trophy for Best New Chorus. Since then they have won several awards in the Derby Arts and Music Festival, and this year gained sixth place in the Ladies National Convention. They have sung in Berus in Germany and hosted a visit from a Barbershop Chorus from Holland. Future plans include a visit to the United States.
The supporting group was Midnight Special, a quartet who also sing with the Grand Central Chorus of the East Midlands Barbershop Harmony Club. They performed a selection of Blue Grass songs, accompanying themselves on harmonica, banjo, guitar and Mandolin.
The charity concert in Rolleston was sponsored by the Midlands Co-operative Society who were represented by Mrs Brenda Belcher, a Director of the Society. Refreshments in the interval were provided free of charge by the Rolleston Co-op Village Store. This generous sponsorship meant that all proceeds from ticket sales could go directly to the Cancer Appeal.
At the end of the evening, the Rector of Rolleston, Rev Ian Whitehead, presented a cheque for £500 to Mr Terry Tricker, the Chairman of the Queen's Hospital Cancer Appeal. Mr Tricker explained some of the background to the Appeal and provided an update on their progress towards the £1.5 million appeal target. He thanked the Rector for the cheque and the large audience for attending and for their generous donations in the collecting boxes. <News>
Under the title of "Organ Fireworks" local organist David Yates gave a concert on 11 October of organ music in St. Mary's Church in aid of the fabric fund. David showed his versatility as well as his skill by playing a wide range of organ works from five centuries. This varied programme was enlivened by his witty and informative introduction to each piece, and the concert ended with a surprise encore: part of Samuel Sebastian Wesley's "National Anthem". <News>
Ian's done it at last! Rev. Ian Whitehead has taken part in the 2002 Sponsored Cycle Ride between St. Mary's Church, Rolleston on Dove, and Holy Trinity, Anslow. Because of a number of weddings on 14th. September, the scheduled date, he had decided to do his ride on Friday 13th. He's not superstitious, but he was struck down with a virus and had to postpone his attempt until Thursday 26th.
At 9 a.m., he was seen off from St. Mary's by his wife Christine, the Churchwardens and a number of other parishioners. Riding a borrowed bike, he managed to complete nine round trips, a total of 63 miles. He raised a total of £1,000 in sponsorship, which is to be divided between the Staffordshire Historic Churches Trust and the two churches.
At the end of his last trip, at 5 pm, Ian was welcomed back at the Lych Gate by over 40 well-wishers who then went with him to the Old Grammar School for a surprise tea-party. After tea and cakes, he hobbled back to the Rectory with a surprise present: a bottle of Radox bath essence. You can see some of the earlier action here. <News>
On Monday 23 September, shortly before 1am villagers (including the Webmaster) were woken by tremors. The epicentre was in Dudley and it measured 4.8 on the Richter scale. <News>
Demolition of Educational Facilities
Demolition work started in mid September at the former college campus in Station Road. Monitor the progress here. <News>
"After 25 years trading STEVE'S FRUIT & VEG will now close. During recent years we have been unable to meet the demands of the modern shopper, with longer hours of trading and the huge selection of goods now available at supermarkets. We are disappointed with the closure but will continue retailing Cane Furniture at Barn Farm. Sian and Steve would like to take this opportunity to thank ALL the people who have shopped with us in the past." Thank you, Steve & Sian McLoughlin, Steve's Fruit & Veg, Chapel Lane, Rolleston on Dove. <News>
Brighter Borough 2002 Competition
East Staffordshire Borough Council has announced the winners of its Brighter Borough 2002 competition which has this year seen more than 100 entries covering householders, schools, churches, businesses, pubs and community groups. Co-sponsored by the Burton Mail and Byrkley Park Garden Centre in Rangemore, the annual competition awards amauteur gardeners for environmental efforts across a number of classes including best new garden, best organic garden and best gardening project carried out by a school, as well as best in ward categories.

Philip Gould, of Marston Lane, Rolleston, has been awarded the Ray Walker Memorial Bowl for best organic garden, and the Marshment Shield in recognition of best floral trough, hanging basket or container. He is also overall winner for the Rolleston ward and has received a commendation for best overall garden in the borough. <News>
A daredevil student is set to face up to the trip of a lifetime into the depths of the Amazon rainforest. Andrew Griffiths, 18, of Hall Road, Rolleston, is preparing to face the challenge of living in the forest for six weeks, testing his physical and mental strengths to the limit.

He leaves from Gatwick Airport on Sunday July 21, for the start of his adventure, which has been organised by BSES Expeditions (formerly the British Schools Exploring Society), a non-profit making charity based in the UK. For the first three weeks he will be camping and walking in the rainforest, studying the wildlife, and the remainder of the expedition will be spent in boats on the river researching aquatic life. Andrew is no stranger to dangerous or challenging trips, and took part in a long-distance trek to Kyrgyztan in central Asia in December, 2000, to reach a 5,000ft peak. <News>
A schoolgirl from Rolleston is set to star with the English Youth Ballet in their forthcoming production of Coppelia at the Theatre Royal in Nottingham on 23 and 24 July.

Eleven-year-old Charlotte Mowforth who trains with the Wollaston School of Dance, based in Barton under Needwood, has been dancing since before she was three-years-old. She has been selected for the part of one of Dr Copellia's soldier dolls, a Combat Dancer. <News>

The village webmaster is proud to announce that the village web site has been chosen as one of the five sites short listed in the North West regional final of the 2002 UK E-Commerce Awards (in the Voluntary and Community category). The awards event took place at the Thistle Hotel, Haydock on 21 June with the Pentalk Network being declared the winner and receiving the £2,000 prize.
The awards are run by UK online for business, a partnership between Industry and Government, which promotes the use of information and communication technologies to small companies, and by InterForum, a not for profit membership organisation that helps British businesses to trade electronically. Sponsored nationally by Cisco Systems and the Royal Bank of Scotland Group, these awards have been designed to recognise and reward those organisations that have demonstrated excellence through the use of the Internet. A new category for 2002 is the Voluntary & Community Sector category sponsored by the Home Office's Active Community Unit. <News>
Village Web Site Receives a Boost
Rolleston web site has been donated an Olympus digital camera and accessories by Frank Bather, Staffordshire County Councillor (Dove Division), through the authority's local members' initiative scheme. It will be used by the webmaster to help compile the site. His thanks go to Mr Bather, the County Council and Chris Goodhead (Photographic). It came in handy to take pictures during the jubilee celebrations (- Web). <News>
Under 9's Rolleston Football team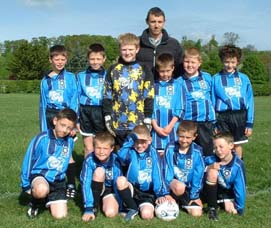 The photograph (kindly provided by Parish Councillor Rodney Paul) shows the Under 9's Rolleston Football team, who were placed 4th in their league for the 2001/02 season. The webmaster hopes to provide a regular news sports feature for next season and would be grateful for any contributions.
Children from Rolleston Pre-school in School Lane held a week-long sponsored bounce to help both themselves and other children (Mid May). The group, a bridge between nursery and full-time education, was loaned a bouncy castle for the week and children took turns to go as high as they could - both physically and financially.
All proceeds were divided between the pre-school's own equipment fund and the NSPCC.
Three year old Freya is pictured left. <News>
Local Church Organist David Yates 'Farewell' Retirement Service
A farewell retirement service for David Yates (a local church organist for nearly fifty years and a resident of Rolleston) took the form of a Festal Choral Evensong at All Saints Church, Mickleover, Derby on Saturday 13 April, at 6pm. Anyone from the church and music world who had sung with David was invited to the service and to join an augmented choir. During the service some of David's compositions were sung, including a Magnificat written for St Mary's, Rolleston in 1975 and a Nunc Dimittis first sung in Ann Arbor, Michigan and written in 1961. <News>
14 year old Hannah Grant of Rolleston is to join pipers and drummers from across the world in a record breaking attempt to form the largest ever pipe band. The current record stands at 8,500.
More than 10,000 marchers are expected to join in the Tunes of Glory march in New York on 6 April which aims to raise $1 million for Marie Curie Cancer Care and US cancer charity Gilda's Club Worldwide.
On Saturday 23 March the scouts held a Family Disco at which the Carnival Princess for this year was chosen. Three of the former Carnival Queens judged. There were eleven entrants. The final choice was Victoria Key. Her attendants being Kathryn Reynolds and Heather Brannington. <News>
The award for 2001 was presented to Mrs Maureen Woodbine at the Civic Trust AGM on 20 March, in recognition of her dedicated service to the community of Rolleston on Dove over many years. <News>
During Millennium year the village raised nearly £6000 to support a WaterAid project in South India.
The final report on the project has just been received. The partnership with local people proved successful, in that they arranged work schedules and raised limited funds towards the project.
21 bore wells have been constructed and fitted with hand pumps and all the manual labour for this has been provided by the villagers. 1,100 household latrines have been made and 21 school sanitary blocks built. Village hygiene sessions have continued, helping to emphasise cleanliness and use of water in and around the home.
As a result of this improved sanitation and the ready availability of safe water a significant reduction in diseases such as diarrhoea has already occurred. The provision of safe water has meant that women have more time to spend in the community, and has led to the formation of a self help group with a meaningful input into planning. This has been so successful that the village men now willingly consult the group before decisions are made. <News>
Civic Trust/St Mary's Pancake Races
Many thanks to all Rollestonians who supported the 22 village teams running this year on a fine, sunny, blustery February afternoon (Sat 9 February 2pm) in Brookside. There were good entries for Senior, Junior and Infant sections, but the new class for family teams produced only one family bold enough to put themselves on the line.

Organised by the Civic Trust with Mr Trevor Bottrill as starter. The Senior event and Cup was won by the Billing/Cook group. Guides Team No.1 won the Junior and one of the four Pre-School teams won the Infants races.

The Street Collection raised £56 for St Mary's Fabric Fund. The Pre-School Parents post race pancakes in the Church Room were well supported and £75 proceeds split between Pre-School and Church funds. <News>
Educational Facilities Lost Forever
Burton College Rolleston Campus (1991 - 2002)

ESBC Planning Applications Committee gave permission for the revised proposal by Westbury Homes to develop the Burton College Rolleston Campus, including the change of use of part of the playing fields, at their meeting on Monday 28 January. The site meeting held earlier in the day was attended by over 50 objectors who raised their concerns over safety, including the location of the proposed play area near to a pond, and that the plans were not in keeping with requirements of the village design statement stipulated in the design brief. Read more here. <News>
Help Fight for Fairer Funding for Schools in Staffordshire
Staffordshire's schools are once again the second worst funded shire county in the country. Each primary school pupil in Staffordshire receives £299 a year less than its counterparts in Hertfordshire, and a secondary pupil £357 less!! Teachers, governors and many parents have finally had enough and are supporting legal action against the Government by a group of Worcestershire headteachers, on the grounds of deliberate discrimination. Donations to the 'f40 Staffordshire Fund' to help cover costs can be made at NatWest Bank (Account 01-08-32 16266110). <News>
John of Rolleston Primary School has been given a books boost after the appliance of science put its pupils on a national stage. Having won a schools science competition last year for its novel 'jelly tower' pupils subsequently made a poster featuring the tower which caught the eye of a member of the Association of Science Education. Their work was chosen out of a nationwide entry as the poster for the association's national conference. As a reward the school was presented with £250 of the latest science books from the prestigious Oxford University Press. <News>
---
Return to Home Page or Main Grapevine Index
© This site was created by Richard Bush
Last updated: 4 April 2012